Sk computer technologies chip level training institute chennai is  mobile repairing training servicing course, laptop chip level repairing training institute, lcd led tv repairing institute, hardware and networking courses, ccna, mcsa, linux course etc. for more than 10 years and thousands of trained students and are around chennai. We are specialist for mobile motherboard chip level, laptop motherboard  upto bga level, led tv smps, motherboard, timing control  board,  we are more pioneer in chip level training institute because  we are using quality tools  bga machine, digital storage osciloscope, dc power source , smd work station, short killer etc. We are able to assure you that 100% chip level education and self employment is available.
Smt electronics course
Sk computer technologies conducts classes for smt electronics course which includes smd components such as resistor, capacitor, inductor, transformer, diode, double diode, transistor, mosfet, triac, diac, igbt , relay, optocoupler, solid state relay, fuse, thermisistor, varistor, integrated circuits and how to check values, usage of components, how to use in the printed circuit board etc. How to solder by iron and how to fix smd components by smd soldering work station and ball grid array level chips fixing. Measuring voltage and current by direct current source and Digital storage oscilloscope clk and data measuring.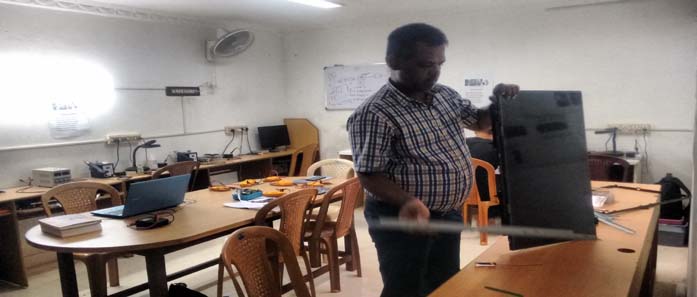 Laptop chip level motherboard course  
Laptop chip level service training course means complete motherboard circuit tracing through schematics, ball grid ic reballing and placing through bga machine, when bios corrupted , bios programmer is used to flash bios chip and reprogrammed  ic . serial clock and serial data checking , charging performance of battery , through digital storage oscilloscope, clk and data measuring, motherboard burned,  track checking and jumper connectivity, full short main voltage (19.5v), tracking charging ic circuit, power ic ldo voltage (3.3vl and 5vl), rtc section voltage double diode checking and rtc battery 3v  and rtcrst clear through jumper. 
Best lapotp chip level service training  course complete motherboard repairing, fault finding of charging section, power
section, r.a.m  section, 19.5v short finding, bios flashing etc. After
successful completion, students can be trained laptop chip level technician.
Laptop
technician course syllabus is complete knowledge of latest processor and
motherboard configuration, assembling and dissembling laptops and desktops,
different versions of operating system installation, troubleshooting of power
on self test, os level booting and blue screen issues, lan network
troubleshooting such as crimping cat6 cabling, os backup and restore, password
cracking etc.
mobile repairing course in chennai
Mobile repairing course how to change display, glass seperation, ic reballing, software update, frp lock removal, pasted ic removal. After completion of mobile repairing servicing course, students are able to start their mobile repairing shop and working reputed mobile service centers.  We are getting mobile service course fees structure is very nominal and our mobile service training center is near chennai and after completion of mobile repairing course , we provide course completion certification.
Advanced emmc course types of emmc, reballing, micro jumpering, identifying of cmd, clk, data, vcc, and vccq, full backup, frp lock etc.
l
cd and led tv  repairing course chennai
Lcd and led tv repairing course consists of panel repairing, bios flashing , androd smart tv  emmc flashing,  pcb diagram circuit tracing, micro level jumpering, emmc reballing, short circuit finding through short killer, measuring current, cof ic bonding through led panel bonding machine, clk, stv reset, vcomm, vgh, vgl, avdd, hvdd signal measuring
Lcd led tv repairing course, students can learn how to change led panel, chip level  training of smps, motherboard, timing control, bios flashing for sotware related problems, bypass panel level jumpering, general troubleshoot of short finding etc. The students once completed the lcd & led tv repairing course, they can start own service center or we arrange for employment opportunities and we provide internship with live Tv repairing center.
Hardware and networking course in chennai
 Hardware and networking course syllabus is desktop and laptop assembling, operating installation, ghost image backup and restore, trouble shooting power on test , os related problems and lan related problems etc. windows server installation, configuration of active directory domain services and configuration, files and printers sharing, outlook configuration, remote desktop installation, iscsi server configuration etc.
Ccna course in chennai
CCNA certification coursehas been devised by CISCO and stands for Cisco Certified Network Associate. The certificate validates a professional ability to understand, configure, operate, configure and troubleshoot medium-level switched and routed networks and also includes the verification and implementation of connections via remote sites using WAN